For great Olympic Peninsula Fishing Guide servcies in La Push, Sekiu, Neah Bay and Forks Washington Salmon, Halibut and Lingcod Fishing Charters and Olympic Peninsula Fishing Guides for Salmon and Steelhead. - call Allways Fishing!

Reviews - tap on image below for Google Reviews.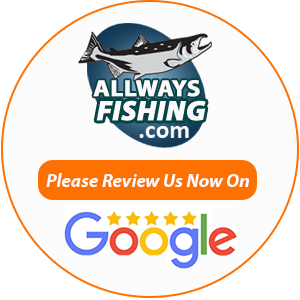 We went out fishing with Randy on 9/8. Weather was moist but Randy was ready to show us a great time.
Couple guys on dock said fish weren't hitting. They didn't have Randy for a captain. We filled our cooler with Ling Cod and Salmon.
I'm a T-4 Para in a wheelchair and Randy handled everything great for me.
Can't wait to go again.
Alan Wakefield
Houston, Texas
Hi Randy,
I had a great time fishing you w/you and Jim, today. The experience is something I'll always treasure. My wife was impressed w/the amount of fish (king, silver salmon, and sea bass fillets) I brought home - the cost to purchase in either a seafood market or restaurant, would far exceed the cost of the guided trip.
I want to book a steelhead trip w/you; October or November, works best for me - you let me know and we'll get it done. I stopped by High Tide Seafood, in PA on the way home; bought three packages of the salmon sticks I brought onboard today, that you like. It freezes well (vacuum sealed), and I'll bring it to you when we hook-up on the next trip.
I'll wait to hear from you re: the "go time" for river steelhead. You're an excellent guide and a good friend. Thanks for the memories today.
Larry
My wife and I had a great time fishing with you. This was my wife's first bottom fishing trip, and I have been on many, but I had more fun with you than I have ever had bottom fishing. You are an outstanding guide. I would love a fall king or silver trip with you on the rivers, which is my favorite trip. What do you have available? We both have good gore tex rain gear, so we are ready weather wise.
Hi Randy!
I finally got my dream trip on your world famous hoh river thank you so much for making this happen. I,ve fished alaska greatlakes canada pounded fish in all three but this trip puts the icing on the cake got a great vid of you & Dan nice pics box full of steelhead.
It just don't get any better for a fishing junky I know you work your ass off hope you hit the big time with some of the outdoor writers we will see Randy Lato on the cover of sts and you takeing Garry Loomis fishing on tv can't thank you enough, Randy.
Gerald & guys
Thanks Randy, for a Salmon fishing experience that was way over and above my expectations. It's obvious that you know every inch of the river like the back of your hand. I appreciate how hard you worked to make sure that we would catch our limit.
It was truly a wonderful day of adventure, humor, and just plain good fun; best value for dollar spent on my whole vacation.
Best of luck with everything. Hope to do this again in the future. Also, will recommend you to anyone I know that wants the Salmon fishing experience. Thanks again.
Steve Brown
In 2008, my husband and I spent our 40th wedding anniversary Spring halibut fishing, and my 60th birthday in the Autumn fishing for tasty river salmon with Randy Lato from All Ways Fishing. Randy is careful and mindful of safety and he's also great fun to be with. He matches his gear to the task; he's a pro.
Mariners will understand when I say that Randy runs a SKOOKUM boat. We fished the pristine Sol Duc River in Randy's extra sturdy and comfortable inflatable. I'm ready to go again in 2009.
Kathyrn and Neal Fridley
Port Angeles, Washington
Randy,
Thanks for the best day of Northwest Steelhead fishing I have ever had. I have never had so many hook ups and that 17 pound native hen was the biggest steelhead I have ever caught. Truly a blessed day with sunshine, fish and eagles. This was the best Christmas present I could have received. It was so much fun, I will long remember the hook ups and the wonderful green Bogachiel water, so perfect for fishing. A very relaxing day and your quick replacement of rods when our poor casting got us hung up helped to keep us in the water and fishing.
Peace,
Fr. Paul Brunet, Forks, WA